Welcome to Henry Ford!
The Henry Ford Hospital Emergency Medicine Residency Program has a rich history of training leaders in emergency medicine since 1976. We accomplish this by establishing a foundation based on clinical excellence, supported with a variety of unique educational opportunities and structured mentorship. Additionally, we strive to support and enrich our residents holistically, establishing the framework for long, fulfilling careers.
First and foremost, our residents are trained to be outstanding clinicians. Henry Ford Hospital is an incredibly unique clinical site that combines community, urban and academic experiences into one. It is an urban safety-net hospital for the city of Detroit, a level-one trauma and quaternary care referral center. Our setting allows for a breadth of educational experiences and facilitates clinical development utilizing a model of progressive responsibility. We continuously challenge our residents by adding distinctive opportunities as they progress through their training. Graduates from our program are ready to provide outstanding care for anyone, anywhere, anytime.
We are honored to serve Detroit, a city that continues to experience significant health inequities leading to a medically complex and critically ill patient population. We aim to provide excellent, compassionate and culturally sensitive care for everyone. We take our role in our local community very seriously and our department is continuously working to address health inequities with innovative social EM and public health initiatives. It is important that our residents share a similar passion for improving health equity for our communities.
In addition to exceptional clinical training, we provide the mentorship, guidance and scholarship needed to explore any specific areas of interest. Our three-year curriculum includes ample elective time to explore these unique interests. We also have tracks in medical education, research, administration and community emergency medicine. Our large faculty group has diverse interests and representation in the majority of EM subspecialties, allowing for specialized education and mentorship opportunities. This mentorship and exposure have led to over 40% of our graduates pursuing a fellowship in the last 5 years.
Among the many areas of academic expertise, we excel in teaching the delivery of emergency critical care and point-of-care ultrasound. We have large critical care and ultrasound divisions with dedicated faculty working synergistically to provide our residents with outstanding exposure in these areas throughout their training. Additionally, our residents graduate with a high level of procedural mastery due to the multitude of procedural opportunities and experiences provided in these clinical environments.
We are committed to building a diverse and supportive team that celebrates successes and uplifts each other during hardships. We strive to make residency memorable for all the right reasons: tremendous development, meaningful service, critical thinking, enjoyable experiences and lifelong friendships. We promise to honor our program's rich history with continued innovation and the development of educational excellence into the future. We will respect our community and the trust they place in us. We hope our vision for your journey to clinical excellence and leadership aligns with your goals and that you will join us as part of the Henry Ford Family.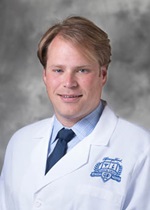 Jason Folt, MD FAWM
Pronouns: he/him

Incoming Program Director, July 2024
Department of Emergency Medicine
Henry Ford Hospital
jfolt1@hfhs.org