Diversity, Equity, Inclusion and Justice
In 2017, dozens of interprofessional members of our Emergency Department family, including patient advocates, medical assistants, nurses, residents, attendings, and administrators, joined together to create the interprofessional  Diversity, Equity, Inclusion and Justice Committee. 
Our mission is to leverage the power of diversity as a strength, embolden equitable patient care and workplace practices, and promote an inclusive Emergency Department culture for patients, families, and staff. 
We believe that the diversity of our department and local community synergistically enriches all of our experiences and care. We are looking to recruit and train a group of highly motivated leaders who will meaningfully contribute to equitable patient care and workplace practices.  
The Department of Emergency Medicine strongly encourages applications from candidates who are underrepresented in our specialty, such as racial/ethnic minorities, women, LGBTQIA+ identified or gender–nonconforming individuals, individuals from disadvantaged backgrounds, and those with special needs. We hope that your contribution to our department with help us achieve our vision of an equitable and inclusive environment for all. 
We are dedicated to: 
Striving to be mindful of our daily interactions that bring us closer to our vision

 

Building a department that reflects the diversity of our local communities

 

Training physicians who provide exceptional care to individuals from all walks of life

 

Actively recruiting leaders whose collective lived experiences allow us to better understand the social and 

historical 

intricacies that impact health and wellness

To engage our local community with authenticity

 

To develop culturally sensitive and evidence

–

based health initiatives to combat healthcare 

inequities

Undergoing 

the 

difficult, but necessary and long overdue 

work

 

to address systemic racism, sexism, homophobia, transphobia, xenophobia and other forms of injustice.

 
Our DEIJ strategic foci are: 
Patient care  
Education 
Scholarship & Research 
Community Engagement & Service 
Culture 
 Examples of DEIJ Initiatives 
Health Equity Initiatives & Research

 

Mobile Integrated Health Program: 

ED patients are actively screened for this program where they will receive a home visit post-discharge from the ED by a community paramedic. Home visits can include home assessments, medication administration, lab draws and virtual physician visits.

Women & Person-Empowered Community Access for Reproductive Equity (WE CARE) Intervention:

WE CARE 

is an ED-based intervention that uses an online health technology called MyPath and community health workers to provide reproductive-aged 

gender-inclusive patients capable of getting pregnant

 with family planning services, including preconception care and contraception counseling, with social needs screening, referrals, and care navigation during or after non-emergent ED visits. WE CARE was developed using best practices from the scientific literature, community-based participatory research (CBPR), the Integrative Model of Behavioral Prediction Theory, reproductive justice principles, and healthcare stakeholder input. 

An entirely virtual COVID-necessitated adaptation of this intervention is being piloted.

Peer Recovery Coach Program:

Our peer recovery coaches bring the lived experience of recovery, combined with training and supervision, to assist others in initiating and maintaining recovery, helping to enhance the quality of personal and family life in long-term recovery. The coaches help us implement our Screening, Brief Intervention, and Referral to Treatment (SBIRT) program which is an evidence-based practice used to identify, reduce, and prevent problematic use, abuse, and dependence on alcohol and illicit drugs. The SBIRT model was incited by an Institute of Medicine recommendation that called for community-based screening for health risk behaviors, including substance use. One end goal of SBIRT is to identify patients that may be eligible for medication-assisted treatment (MAT). MAT is the use of medications in combination with counseling and behavioral therapies in the treatment of opioid use disorders (OUD) and can help people sustain recovery.

Women in Emergency Medicine Network (WEM Net): WEM Net

 is a network of women in emergency medicine at all career levels 

aiming 

to promote gender equality in our specialty, health system

,

 and beyond. Members of this network

 are dedicated to

: 

 

Developing career and personal goals through close mentorship

Enhancing research skills

E

xploring research related to the status and need

s

 of women in emergency medicine

Actively utilizing networking opportunities

Developing time management skills that maximize work life balance and efficiency

Learning and developing negotiation resources and support

Evaluating

 and recommending

 policies and 

practices to

 favor gender equality

 

Community Engagement: We have collectively participated in the following community engagement activities as a department:

 

Center for Success Detroit: A 

f

ree after

–

school literacy program that serves students reading below grade level by partnering them with a one-on-one reading mentor twice a week during the school year.

 

Street Medicine Detroit: This

 Wayne State School of Medicine 

initiative 

provide

s

 critical primary care to our indigent and low 

socioeconomic status

 population 

who have

 suboptimal access to outpatient medical care

. 

Several

 times month

ly,

a team of faculty, residents, medical students, and other staff go out on "street runs" where homeless and other vulnerable patients who lack access to care can be evaluated, treated, and given prescriptions for their medications.

Addressing Social Needs

: In partnerships with Departments of Case Ma

nagement (Social Work) and Population Health, our E

D

 is committed to enhancing place-based services that address patient's social needs. 

Patients with social needs

 such as food insecurity, underinsurance, and housing instability

 may access material support such as nutritious food boxes, gift cards, or 

limited 

prescription coverage. These resources are made available through generous staff donations and partnerships with organizations like Gleaners Food Bank.

Supporting a diverse Emergency Medicine workforce

: We are committed to building a department that reflects the diversity of our local communities.

Underrepresented in Medicine Scholarship for Visiting Medical S

tudents:

To enrich the diversity of the Henry Ford Hospital Emergency Medicine Residency, our department's Diversity, Equity and Inclusion Committee is pleased to sponsor a scholarship program to support underrepresented in medicine medical students who have an interest in emergency medicine. The scholarship

provides

recipients with $1,500 to be used for travel, lodging

,

and other expenses associated with participating in the clerkship.

HFMG Summer 

Pathway

s to Healthcare Clinical and Research Careers Program: This program is an immersive 4-week experience for Detroit high school students that provides students with real world experiences and exposure to various medical specialties and career pathways. It helps provide them tools needed to pursue healthcare careers, while also establishing long-term mentoring relationships with health care professional and near-peers.
Dr. Leon L. Haley, Jr., Bridge to Future of Emergency Medicine Academy: The American Board of Emergency Medicine pathway program hosts URiM students between their 1st and 2nd years of medical school for a two week program focused on building mentor relationships, introducing the specialty of emergency medicine, and discussing health care disparities. Dr. Haley was an almuni of the Henry Ford Hospital EM program and we are partnered with ABEM to hosts the students for a hands-on training and mentorship experience in our urban emergency department.
DEIJ Service Award: This 

award

 honors a

 graduating

 Emergency Medicine 

resident

 

who has made exceptional contributions to advancing diversity

, equity,

 

inclusion,

 and justice within emergency medicine.

Street Medicine Detroit: Our residents and faculty have partnered with Street Medicine Detroit to volunteer on street medicine runs in our surrounding community.
If you have any further questions about our departmental Diversity, Equity, Inclusion and Justice efforts, please feel free to contact one of our DEIJ leaders below.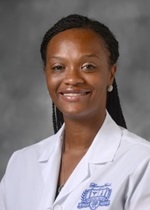 Martina T. Caldwell, MD, MS, FACEP
Pronouns: she/her
Medical Director of Diversity & Inclusion | Henry Ford Medical Group

Principal Investigator | 
The SHE Rises Lab | 
T
ransgenerational 
S
ocial and 
H
ealth 
E
quity Research

mcaldwe2@hfhs.org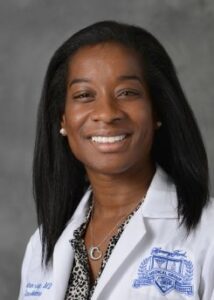 Jayna Gardner-Gray, MD, FACEP
Pronouns: she/her/hers
Co-Chair DEIJ Committee
Fellowship Program Director | Critical Care Medicine
Assistant Unit Director | Medical Intensive Care Unit
ECMO Director | Medical Intensive Care Unit
Department of Emergency Medicine
Department of Pulmonary and Critical Care Medicinejgardne2@hfhs.org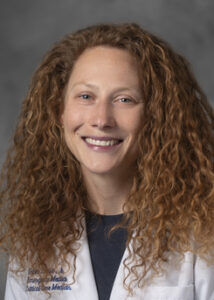 Gina M. Hurst, MD
Vice-Chair DEIJ Committee
Transitional Year Program Director
Division of Emergency Critical Care | Department of Emergency Medicine 
ghurst1@hfhs.org