The Henry Ford Hospital Emergency Department
Henry Ford Hospital is a quaternary care, nonprofit, community hospital with a strong academic focus that is located in Detroit. It operates one of the busiest Level 1 Trauma centers in Michigan with over 100,000 patient visits each year. Henry Ford Hospital is committed to serving the local community, especially those impacted by social determinates of health, and serves as an urban safety net hospital.
The Henry Ford Hospital Department of Emergency Medicine is a nationally recognized leader in patient care, education and research. We have been educating Emergency Medicine residents since 1976 and gained independent departmental status in 1982.
We serve a high acuity, diverse, urban patient population. 25% of the patients seen in the ED are admitted, and 45% of all hospital patients are admitted through the Emergency Department. The ICU admission rate is 7%.
There are over 5,000 resuscitations annually. The EM senior resident is the team leader in all medical and trauma resuscitations. The EM junior resident is at the head of the bed and is responsible for the primary survey and life-saving procedures under the supervision of the staff physician.
The department has dedicated resuscitation rooms and a 16 bed critical care area that can flex up in times of surge. There are separate areas for emergent, pediatric and fast-track care. The Department has X-ray suites, two CT scanners, and an ultrasound suite, all fully staffed with technicians and 24 hours of radiologist coverage. In addition, numerous beside mobile ultrasound machines are present throughout the department exclusively for emergency physician use. A 24-hour on-site pharmacy and ED pharmacist provide rapid access and distribution of medications as well as physician consultation. The department consists of a diverse group of over 50 faculty and 57 residents in three training tracks (EM, EM/Internal Medicine  and EM/IM/Critical Care).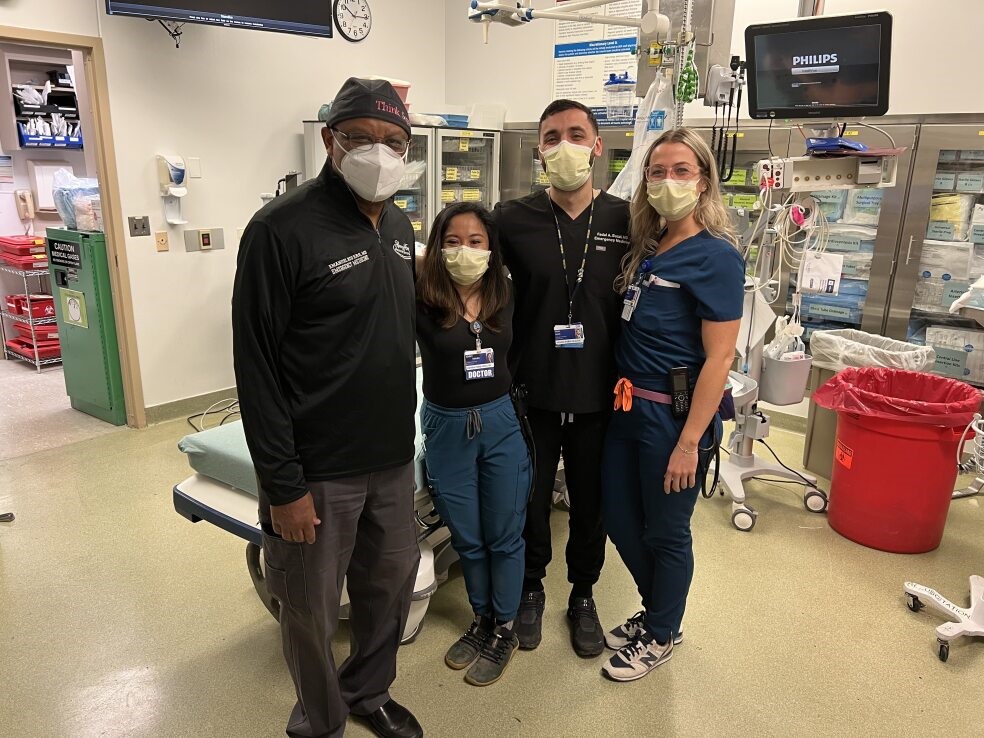 We provide clinical training opportunities for our Emergency Medicine residents and residents from other training programs. We also participate in the training of medical students from Wayne State University, Michigan State University, University of Michigan, and many other local and national medical schools. Scrubs, lockers, resident office space and a lactation room are all located within the emergency department. 
The health system uses EPIC, a fully integrated Electronic Health Record system, with the option to use voice recognition dictation software.  
The Department of Emergency Medicine has led the nation on the development of Early Goal-Directed Therapy and the Surviving Sepsis Campaign. The faculty continue to perform ground-breaking research in numerous fields that set standards for patient care across the country. We encourage you to learn more about our varied research endeavors on our research page. 
Henry Ford Health has also announced the construction of a new state of the art hospital tower with a new emergency department. You can learn more here.